back
Emojis to Avoid
4/12/2017 /
---
I wanted to share some common sense don't's related to communications with clients and the use of Emojis with the article below.
Should you use Emojis with clients when discussing their investments? The answer is a firm NO. But, not even a thumbs up, you ask? In my opinion, you should avoid the use of Emojis with clients when discussing their investments, period. If you are discussing a personal topic then that is understandable to use an Emoji; however, keep in mind that everything that you write to a client in the capacity as their financial advisor, friend or family member is discoverable if a complaint or arbitration/litigation arises and could be used against you. The more clear and concise you are in your communications will show your professionalism and sophistication as a financial advisor. If you have questions on the topic, please let me know. Thanks, Renee
http://www.thinkadvisor.com/2017/04/11/these-4-emojis-are-a-no-no-on-wall-street?eNL=58ed33e4160ba05e1559853d&utm_source=TA_EarlyWire&utm_medium=EMC-Email_editorial&utm_campaign=04122017&page_all=1
APRIL 11, 2017
These 4 Emojis Are a No-No on Wall Street
Firms should have 'clear guidelines limiting the use of comments and emojis to non-financial services-related content,' says Hearsay's Zarabi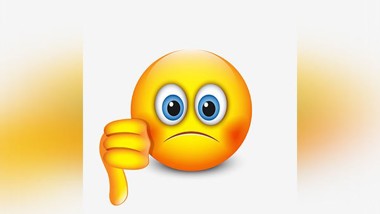 Emojis — it's hard to send a text without including one. Those expressive faces and symbols offer a quick way to convey how we're feeling — a thumbs up after hearing good news or a crying face to convey sadness.
But investment and social media compliance firms warn that financial advisors shouldn't be so quick to include them in client communications.
Using emojis on social media is "attractive and gaining popularity because they are a quick and easy way to respond to a piece of content, beyond just 'liking' it," Yasmin Zarabi, vice president of compliance at Hearsay Social, told ThinkAdvisor in a Monday email message.
"However, these interactions could become problematic for financial advisors depending on the context of the content," Zarabi said. For instance, "if the content is specific to financial products or services, then an advisor's comments, likes or emojis can be construed as an endorsement or advertisement of a product, person or service, in violation of regulations."
That being said, engagement with content that is "clearly not related to business (e.g., a photo of a birthday party) will not be interpreted as an endorsement or advertisement."
Firms should have social media policies that provide "clear guidelines limiting the use of comments and emojis to non-financial services-related content," Zarabi said.
Indeed, Putnam Investments noted in a recent posting on its website that while emojis can "go a long way in reaching prospective clients, staying connected with existing ones, or building your business," Putnam's advice to advisors is to "always remain respectful and tasteful when using the vast array of emojis available."
Symbols carry "great and varied meaning across social and cultural groups, so steer clear of any that may carry nuances that are not immediately apparent," Putnam suggests.
Emoji-like symbols are now available in Facebook feeds, Putnam points out, as Facebook last year released a new way to "like" posts by including Love, Haha, Sad or Wow symbols.
While reacting on Facebook to your network updates can also be "valuable," Putnam said, "consider using an appropriate 'Laughing' emoji or congratulating clients on a new job with the 'Yay' emotion, for example."
In the investment advisory industry's regulated environment, Putnam said, "language is categorically unambigous and well-defined. It is important to remember that, unlike words, emojis can infer great meaning. Avoid using emojis that could be construed as promissory."
Putnam pointed to the following four emojis that could land advisors in hot water: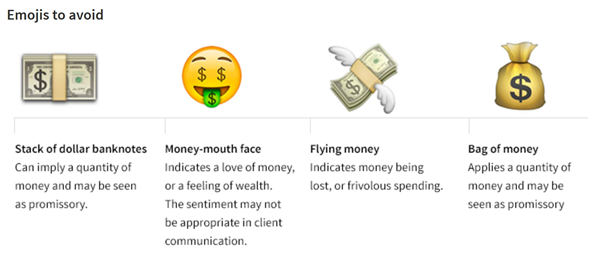 {% if {tag_additional content} != "" %}{tag_additional content} {% endif %}