What comes first at IPI?
Our Financial Professionals and their Clients
When Dave Koshinski founded IPI Wealth Management, he wanted to provide select financial professionals what they didn't always get from the big broker/dealers: flexibility, integrity, support, innovation, mentoring, autonomy, cooperation, and the sense that their goals and dreams mattered.
Dave created a financial services platform known for quality -- quality relationships, quality products, and quality people working together. At the start, he made the critical decision to maintain a very high level of integrity and values. At IPI, Integrity, Performance and Innovation are our name!
Small is smart
Investment Planners and IPI Wealth Management are no behemoths. We are a boutique broker/dealer and RIA for discerning financial professionals. At IPI and IPI Wealth, you and your business are viewed as a strategic business partner.
Here, you benefit from individualized support that can help you grow your business in the right direction. Here, Strategic Lifestyle and Wealth Management™ means something: providing solutions for your mass affluent and affluent clients through an open architecture, close peer and home office relationships and supportive compliance to make a difference.
Solutions matter
Our financial professionals are skilled and gifted practitioners. More important, they are professionals who care about solving their clients' wealth concerns. Thus, it is our focus to bring innovative investment and wealth solutions to you so you have time to concentrate precise time on your clients and their needs. Our innovative Strategic Lifestyle and Wealth Management™ solution works to bring a framework for you to design and implement clients' wealth through accumulation, preservation distribution and transfer phases to help them achieve financial significance and emotional peace of mind.
At IPI, we are dedicated to solutions for you, the independent financial professional and contractor. It is our focus to provide you with solutions to help you run an efficient and profitable practice: technology, investment products, leading custody platforms, top private money managers, and service that supports you and your practice.
Flexible, cooperative compliance
Our compliance department helps you avoid controversy but keeps you efficient with your clients. Our flexible compliance environment suits all business types and models, fee and commission businesses. We understand the regulators and are working to make sure your practice is compliant yet client centric.
Open architecture
At IPI, we are about what's right for you and your clients. Thus, we are a firm that supports an open architecture with multiple custodial platforms. Our partners: RBC Clearing & Custody, Schwab Advisor Services and TD Ameritrade are all ready and available to support you and your clients. We are top tier at all three platforms and have earned preferred status at each which comes with benefits for you!
Affirmation of your ambitions
At IPI, we know you not only by your first name, but also by your business goals. We are dedicated to your vision, mission and goals - what you want to accomplish, and the path you envision for your business.
The knowledge you need is not only accessible, but delivered in close relationships. You are encouraged to broaden your skill set, expand your practice, and actively market yourself to attract more quality clients. You can develop your business as you see fit -- you are positioned to grow.
It's time to challenge you. It's time you came to explore what your business can be. Our industry is changing and consolidating and IPI will be here as your strategic partner for your future. Contact us today and get to know a broker-dealer and RIA ready to get behind your vision of your business.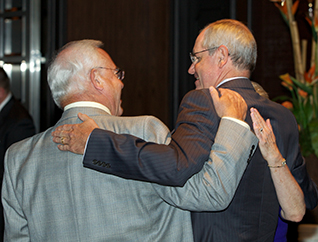 For over 25 years, IPI has been dedicated to providing a "Gold Standard" in service to our advisor business partners.
We strive to build successful partnerships which encourage the sharing of ideas and talents for the good of all. We are committed to ensuring your significant future.